BUSINESS CONTROL SOLUTIONS (BCS)
---
Designed for the SME, Genteq BCS solutions deliver vast capability and flexibility at an achieveable investment point.
TAKE CONTROL OF YOUR OPERATIONS
| | |
| --- | --- |
| | Manage your business process from start to finish and gain a connected view of your operations. |
| | Plan and monitor your projects with real-time metrics on resources, profitability, tasks, and progress. |
| | Easily create data models for the data you need to collect. |
| | Create workflows for your business operations |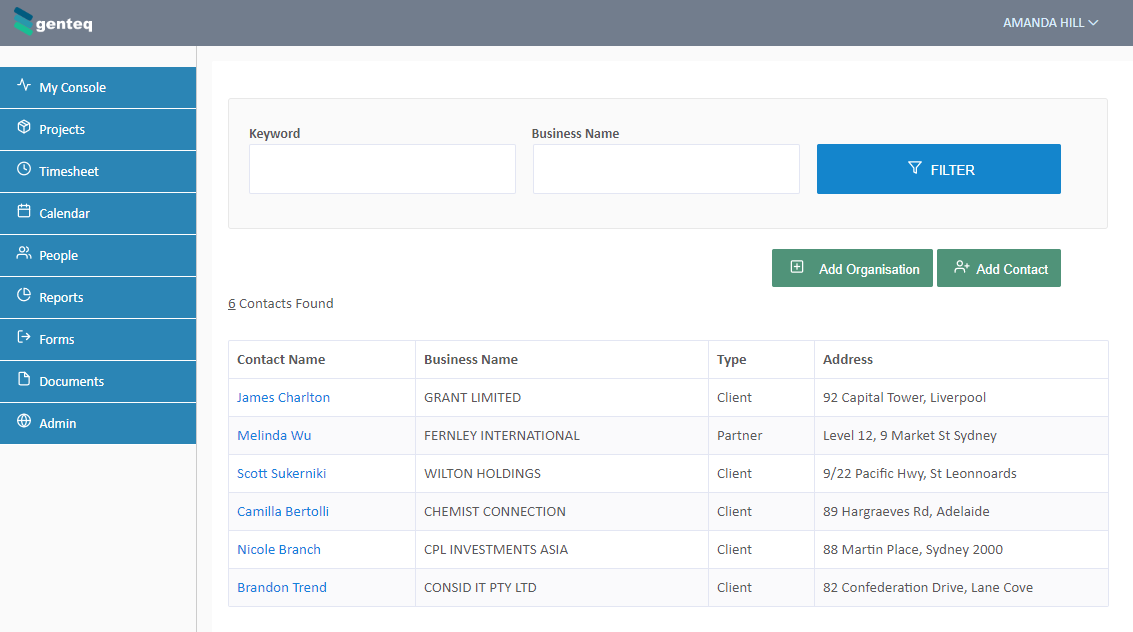 KEY FEATURES FOR THE SME
TIMESHEETS
---
By assigning rates against workers and empowering your teams with mobile timesheet apps, you have a solid overview of individual jobs and also of employee and resource allocation.
DIGITAL FORMS
---
Easily create a digital form in a matter of minutes that allows for the collection of photographs, videos, digtial signatures and much more. Share your forms with people in your business.
OUTLOOK INTEGRATION
---
Connect Outlook to your BCS and get a connected view of your staff, projects and more.
CUSTOM DAHBOARDS AND REPORTING
---
Out-of-the box dashboards deliver enable businesses to confidently make decisions using up-to-the-minute analytics.
PROJECT MANAGMENT
---
In BCS you can perform your usual project management tasks, such as configuring a job and scheduling a resource, as well as providing the information needed to manage budgets and monitor progress. Additionally, track resource and employee hours on the project by using time sheets.
WORD, EXCEL and PDF
---
Any information contained within BCS can be exported to predefined Microsoft Word, Microsoft Excel and PDF templates.
WORKFLOWS
---
Streamline business process within the BCS with ease. Whatever your business process is, use workflows to help your business meet compliance and other needs.
USER ROLES
---
Create roles for your business users. From administrators to field workers, you can assign the most granular permission to each role.
FLEXIBLE DATA
---
Create data models to represent items in your business and use workflows to interact with those items.
EASILY CREATE QUOTES AND PROPOSALS
| | |
| --- | --- |
| | Create quotations and proposals from within a powerful web user interface and immediately send quotes to prospects and customers |
| | Automatically generate quotes and proposals as Word (.docx) and PDF files |
| | Track your actual costs against your quoted costs on a item-by-item basis for both goods and labour |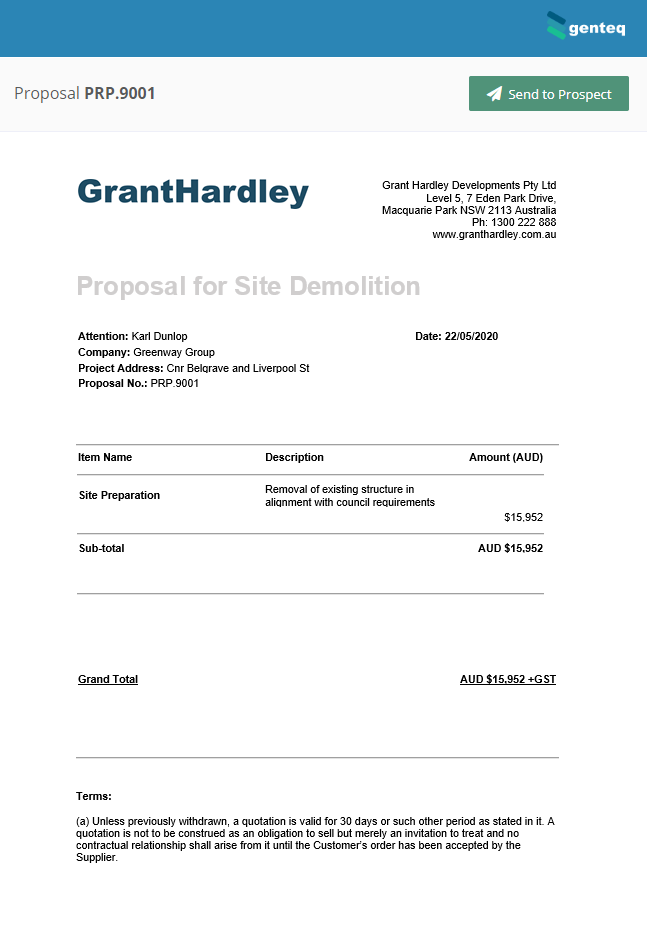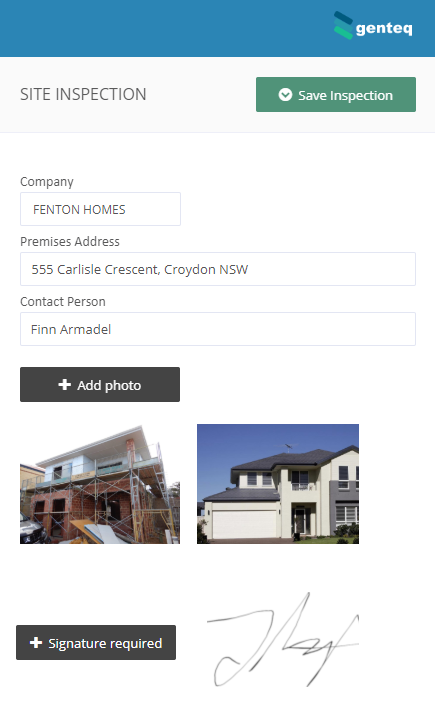 COLLECT THE DATA YOU NEED
| | |
| --- | --- |
| | Create your own data templates for any information your business requires. For example, a business may need to perform scheduled inspections on their machinery or collect site safety information. The BCS gives you the control to define these pieces of information and have your team collect this information via the BCS mobile apps. |
| | Collect all kinds of data such as images, geolocations, videos, audio recordings and signatures. |
| | Connect your data to workflows for a high level of control. For example, connect approval processes to any collected data. |
DASHBOARDS FOR CLEAR VISIBILITY
| | |
| --- | --- |
| | Easily visualise your business with over 20 inbuilt graphs and charts. Any data contained within the BCS can be conntected to the charts. |
| | Dashboards are linked to user roles. So for instance a Project Manager will see visuals for their project suite whilst a Compliance Manager will may see charts relating to OHS compliance and so on. |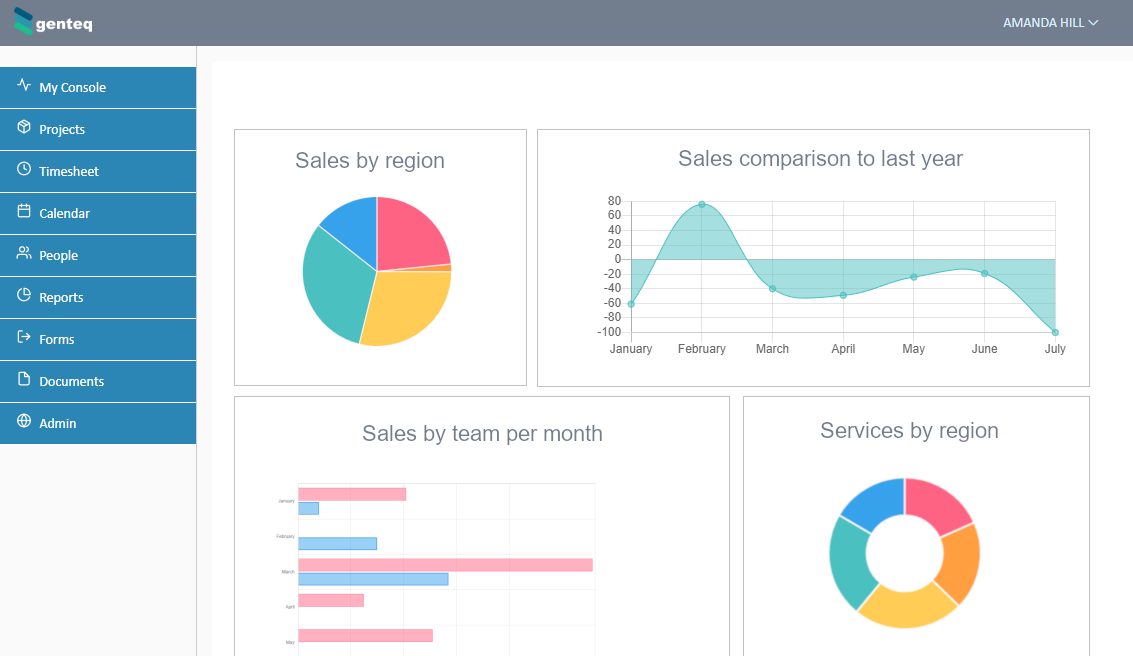 High Functionality, Reasonable Investment
The BCS offers flexibilty, rapid deployment and is offered at an investment point that makes financial sense.
CONTACT US

---
CONTACT US